Horton's Home Farm
(East of Aurora)
IMPORTANT BULLETIN MARCH 2021

We are sorry , but the Sugarbush will be closed in 2021 for tours and pancakes.
We will be open for syrup sales at the gate on Sunday March 28 and Sunday April 4 from 10AM until 4PM.
Please bring cash,wear a mask and practice safe distancing.Go to the Home Farm at 5924 Slaters Road. After April 4 please call 905-888-1738 for an update on syrup sales. Thank you and take care. The Hortons "


Horton's Home Farm is one of the very first Christmas Tree Farms in Ontario. Everyone enjoys the beautiful natural setting and the peaceful ambience. The restored log cabin is a favourite spot to step back in time 100 years among the century antiques or simply to warm up around the woodstove and enjoy hot chocolate.
Cut Your Own: Fresh, premium pre-cut trees:

Fraser Fir 6 to 9 feet
Balsam Fir 7 to 10 feet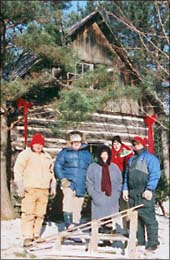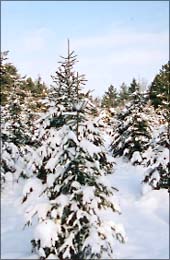 Featuring: - Free Hayrides - Free Hot Chocolate - Bonfire - Tree Baling - Fresh Boughs for sale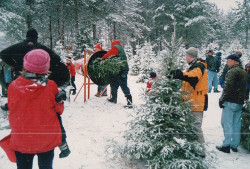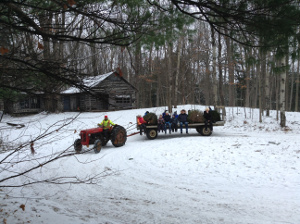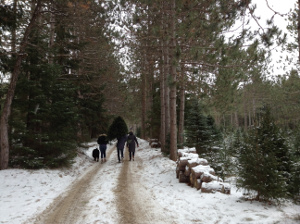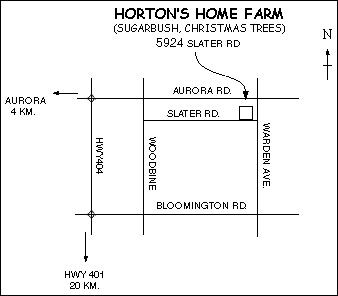 Directions - 5924 Slaters Road Stouffville Ontario
Take Hwy. 404 to Aurora Sideroad. Follow yellow signs EAST 3 km. on Aurora Sideroad,
then SOUTH 1 km on Warden Avenue, then WEST 200 metres on Slater Rd.
Click here to go back to the list of tree farms
Christmas Trees | Maple Syrup | School Tours
Home | Family | Maps & Information
---
Copyright Horton Tree Farms 2011. The information and resources presented on this site are for informative purposes only, we can not guarantees the accuracy, completeness, usefulness or adequacy of any resources, information, apparatus, product, or process available at or from this website.