Horton's Magic Hill Tree Farm
(North of Stouffville)
Cut a fresh, real Christms Tree and enjoy a free Family funfest!

We're celebrating our 32nd year open to the public. Magic Hill is a scenic 100 acre Century Farm with over 30,000 trees. The wagon rides, munchouse and playgrounds create a carnival atmosphere.

Cut Your Own: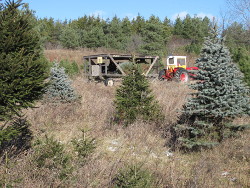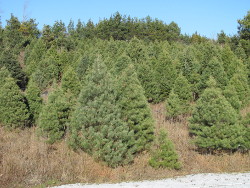 Trees over 8 feet are available but not plentiful
Sorry, We no Longer offer pre-cut trees at Magic Hill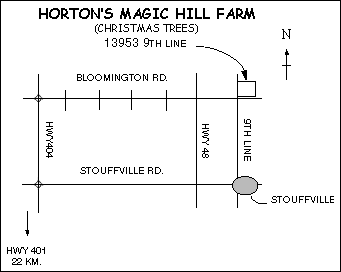 PRICES: All cut-your-own trees $60.00 - HST and baling included
Cash only please - We aren't equipped for for debit or credit cards
FUN FEATURES: Munchhouse (Refreshments) - Wagon Rides - Sandpit Playground - Tobogganing (bring your own) - Bonfire - Fresh boughs for sale
ADDITIONAL FEATURES: Tree baling - Drilling for spike style stands - Tree bags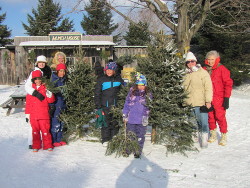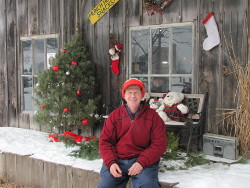 HOURS OF OPERATION - 2016
Saturdays and Sundays: November 26,27, December 3,4,10,11,17,18 9am - 4:30 pm
Dogs on a leash welcome.
DIRECTIONS:
13953 Ninth Line, Stouffville, Ontario Google Maps
1. From the West - Take Highway 404 NORTH to Bloomington Road (25 km. north of Hwy 401). Follow Bloomington Rd. EAST for 11 km., then go NORTH on 9th line for ½ km.
2. From the East - Take Highway 48 (Markham Rd.) to Bloomington Road. Go EAST 2 km on Bloomington Rd., then NORTH on 9th line for ½ km.
Click here to go back to the list of tree farms

Christmas Trees | Maple Syrup | School Tours
Home | Family | Maps & Information
---
Copyright Horton Tree Farms 2011. The information and resources presented on this site are for informative purposes only, and we cannot guarantees the accuracy, completeness, usefulness or adequacy of any resources, information, apparatus, product, or process available at or from this website.